Fernando Capela e Silva
Associate Professor (Departamento de Ciências Médicas e da Saúde)
Employment contract in public functions indefinitely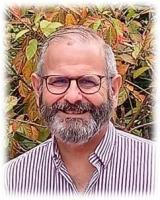 Doctoral Degree:
Biologia (Universidade de Évora - 2004)
Bachelor's Degree:
Engenharia Zootécnica/Zootecnia (Universidade de Évora - 1988)
Comissão de Curso da Licenciatura em Ciências Biomédicas e da Saúde (
Deputy
)
Comissão de Curso do Curso de Especialização Tecnológica em Histiologia Humana (
Director
)
Conselho Científico da Escola de Saúde e Desenvolvimento Humano (
Advisor
)
Scientific Council of IIFA (
Advisor
)
Departamento de Ciências Médicas e da Saúde (
Deputy
)
MED - Institute of Mediterranean Agricultural and Environmental Sciences (
Integrated Member with doctorate
)
Laboratório de Fisiologia Animal Aplicada (MED) (
Head
)
Laboratório de Palinologia e Aerobiologia (MED) (
Head
)
Responsible Unit for Animal Welfare at the University of Évora (ÓRBEA-UÉ) (
Member
)
Histologia e Citologia Animal Comparada. Morfologia Funcional e Processos Adaptativos. Biomarcadores de Função, Lesão e Reparação dos Tecidos [Comparative Animal Histology and Cytology. Functional Morphology and Adaptive Processes. Biomarkers of Tissue Function, Injury and Repair].
1. Biologia Oral: Efeitos hormonais e da dieta nas adaptações morfofisiológicas dos tecidos orais. 2. Biologia da Pele e seus Anexos: Plasticidade morfológica e fisiológica em ambientes. térmicamente variáveis. Biomarcadores de stress térmico [1. Oral Biology: Effects of diet and hormonal factors on morphophysiological adaptations of oral tissues. 2. Biology of the skin and its appendages.: Morphological and physiological plasticity in thermally variable environments. Biomarkers for thermal stress].
Grupo de Biociência Animal/ICAAM