Alumni
The mission of the University of Évora's Alumni Programme is to develop a lasting relationship with all former students, building a more active community in the life of the university.
Alumni Community
The University of Évora invites all former students to return to their Alma Mater and register for the Alumni Program by completing a short questionnaire.
In this way, they will be able to maintain a close relationship with the University and have access to a range of advantages, activities and information about the Academy.
Alumni Around The World
Through the interactive map it is possible to locate the current dispersion of former students at the UÉ, is the space where academic and professional testimonies are shared.
Awarded Alumni Career
The UÉ annually awards the Career Alumni Award.
Thus, the professional and civic route of the institution's alumni is recognized.
Highlights
TREZE Magazine, a publication of DIC2E
Valuation and transfer of knowledge
Publication of informative and training nature, focusing on the different areas of activity of DIC2E: Knowledge Transfer, Intellectual Property, Transversal Projects, Cooperation, Start-ups and Spin-offs, Internships and Employability. A magazine aimed at the entire academic community and the business community in the region.
Read the last number here
Schedule
Organization
The years you've studied at the University of Évora were certainly remarkable for your personal, academic and professional development. We want to maintain a close relationship with all alumni and encourage greater involvement as we respond to their needs, interests and goals. It was Philip Conroy of the European Association for International Education (EAIE) who wrote in an opinion piece that the University is like an onion. And that at its center should be not only its current students, but also all those who passed through here.Register and share the form with all your colleagues and friends who studied at the University of Évora. Let's create a "snowball" effect and build this network together. We count on you!
Contacts
Location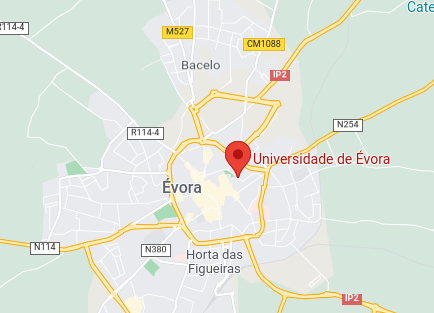 Address
Universidade de Évora, Serviços da Reitoria | Divisão de Inovação, Cooperação, Empreendedorismo e Empregabilidade - DIC2E, Casa Cordovil, R. Dom Augusto Eduardo Nunes 7, 7000-651