Ana Isabel Pereira Alexandre
Assistant Professor (Department of Biology)
Employment contract in public functions indefinitely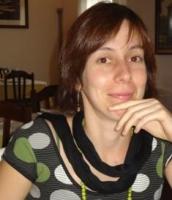 Doctoral Degree:
Biologia (Universidade de Évora - 2010)
Bachelor's Degree:
Biologia (Universidade de Évora - 2003)
Comissão de Curso da Licenciatura em Biologia Humana (
Deputy
)
MED - Institute of Mediterranean Agricultural and Environmental Sciences (
Integrated Member with doctorate
)
Molecular Biology
Microbiology
Plant-Microbe Interaction
My research area is rhizobia-legume symbiosis. This prokaryote-eukaryote interaction has as main attribute the biological nitrogen fixation that occurs in special structures designated by nodules, usually formed in the host plant root. Rhizobia-legume symbioses represent an important tool towards more sustainable agricultural practices, as they can provide nitrogen to the crop and to the soil.

N-fixation depends on the physiological state of the host plant and on the effectiveness and environmental fitness of the microsymbiont. Most of my research work was dedicated to study the diversity of rhizobia as well as their tolerance to stress. Besides my interest in the molecular bases of stress tolerance, I am also dedicated to investigate genes that may influence the symbiotic performance of rhizobia.
Research Group: Plant Protection - ICAAM