Nuno Pedroso
Researcher (MED - Institute of Mediterranean Agricultural and Environmental Sciences)
Fixed-term employment contract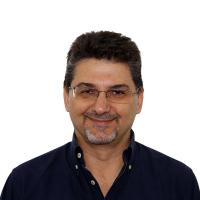 Doctoral Degree:
Doutoramento em Biologia (Ecologia) (Faculdade de Ciências da Universidade de Lisboa - 2012)
Master Degree:
Mestrado Luso-Brasileiro em Gestão e Políticas Ambientais (Faculdade de Ciências e Tecnologia da Universidade Nova de Lisboa - 2004)
Bachelor's Degree:
Biologia Aplicada aos Recursos Animais Terrestres (Faculdade de Ciências da Universidade de Lisboa - 1997)
MED - Institute of Mediterranean Agricultural and Environmental Sciences (
Integrated Member with doctorate
)
mammalian ecology, aquatic environments, conservation, environmental policy and impact assessment, road ecology, project management
My main interests are mammalian ecology and conservation mostly linked with aquatic environments. I´ve been working on the influence of anthropic environments in the ecology and adaptation of semi-aquatic mammals, especially with otter species, and their prey, antimicrobial resistance dissemination effects in wildlife, and conservation of aquatic environments especially ponds and reservoirs. Lately, I have been working on road ecology.

I am also interested in environmental policy and impact assessment regarding biodiversity and conservation. I also participated and collaborated in several monitoring and environmental impact projects and LIFE projects. I have experience in the private sector, the academia and non-governmental organizations, mainly related to conservation and project management.
I received a Ph.D. in Ecology from the University of Lisbon (Faculty of Sciences) in 2012. I´ve been Post-Doc Researcher funded by the São Paulo Research Foundation (FAPESP) from 2015 to 2018, and a member of the Applied Ecology Research Group, CENA/ESALQ/São Paulo University and collaborator of the Conservation Ecology research group of cE3c/Faculty of Sciences/Lisbon University. I am also a member of the IUCN SSC Otter Specialist Group.
Biodiversity and Ecosystem Functioning / Applied Ecology and Conservation
618518-EPP-1-2020-1-PT-EPPKA2-CBHE-JP
/
Comissão Europeia
em curso até 14/01/2024