Galopim de Carvalho receives medal from the President of the Republic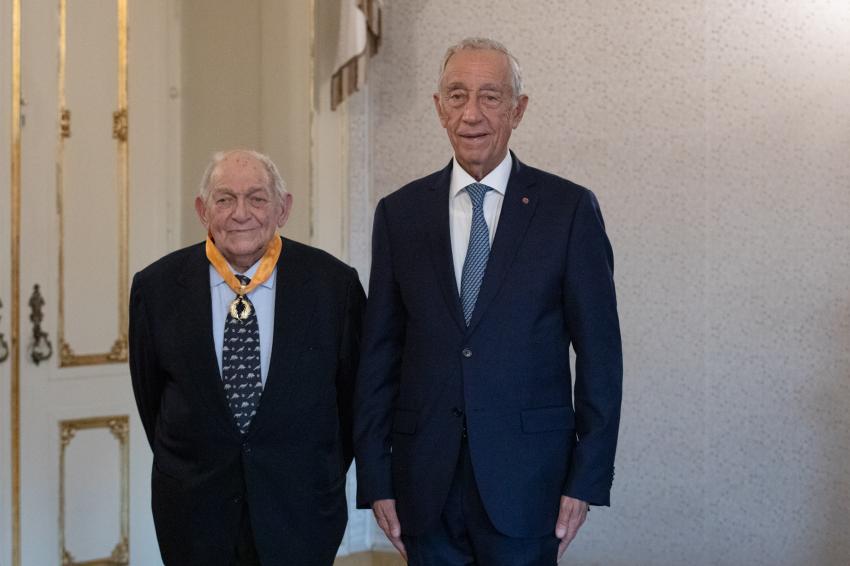 The President of the Republic bestowed, on January 31, in a ceremony at the Palácio de Belém, the insignia of the Order of Public Instruction to Professor António Galopim de Carvalho. 
Born in Évora, the "father of dinosaurs in Portugal", as he is also affectionately known for his work as a Paleontologist, continues, in the conferences and debates in which he participates, his unparalleled work in the dissemination, safeguarding and enhancement of national geological heritage, having therefore been awarded the Degree of Doctor Honoris Causa by the University of Évora in 2019. 
António Galopim de Carvalho, has a PhD in Sedimentology, from the University of Paris (1964), and in Geology from the University of Lisbon (1968), where he taught several subjects between 1961 and 2001, the year in which he retired as full professor. Author of a vast and plural work that includes not only scientific bibliography, but also chronicles and fiction, he signed more than three hundred titles.
He directed the Museu Mineralógico e Geológico da Faculdade de Ciências de Lisboa, from 1983 to 1992, and the Museu Nacional de História Natural (MNHN), from 1992 to 2003, where he was the main mentor and scientific responsible for successive research projects dedicated to the areas of Marine Geology and Dinosaur Paleontology.
The Ordem da Instrução Pública is a Portuguese honorific order awarded for high services rendered in education and teaching, whose origin dates back to 1927.
Published in 02.02.2023