Christopher Bochmann decorated Commander of the Order of Prince Henry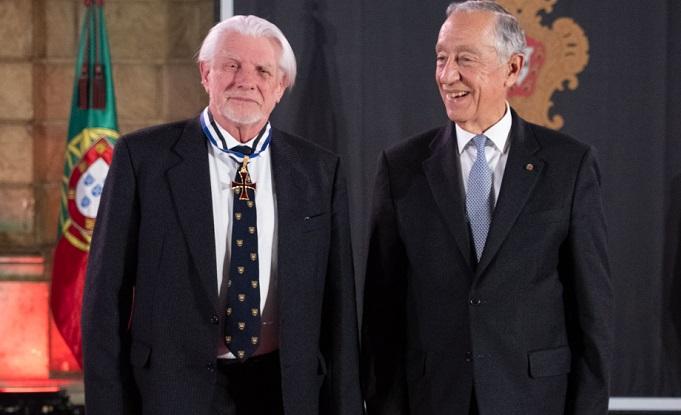 Christopher Bochmann was distinguished by the President of the Republic, on January 26th, with the degree of Commander of the The Order of Prince Henry, in a session which took place in the Royal Riding Arena of Belem Palace.
Having already been awarded, in 2004, the Medal of Cultural Merit by the Ministry of Culture, and in 2005, the distinction of Officer of the Order of the British Empire (O.B.E), by the Queen of England, the University of Évora's Jubilee Professor has now received this honorific decoration awarded to those who render relevant services to Portugal, at home and abroad, as well as services in the expansion of Portuguese culture or for the knowledge of Portugal, its History, and its values.
For the Rector of the University of Évora, Hermínia Vasconcelos Vilar, "Professor Christopher Bochmann is one of the unavoidable names in the recent history of the University of Évora, having influenced, with his dedication, commitment and vision, a new generation of musicians. Congratulations Professor Bochmann for this recognition that also ennobles the name of the University of Évora" emphasizes the Rector, adding that "the music and the musicians are to be congratulated".
In the words of the honoree, "it is a special honor to be recognized not only by the country of origin but also by the country of adoption. For me, the order of Infante D.Henrique has a special meaning, because he was the son of an English woman who came to Portugal when she was almost 30 years old and dedicated her life here.
With a doctorate in composition from Oxford University, Bochmann has divided his time between composition, conducting and teaching, having been Director of the School of Arts for two consecutive terms, between 2009 and 2017.
Published in 27.01.2023