New consortium in Portugal gathers universities in the creation of the CAMPUS SUL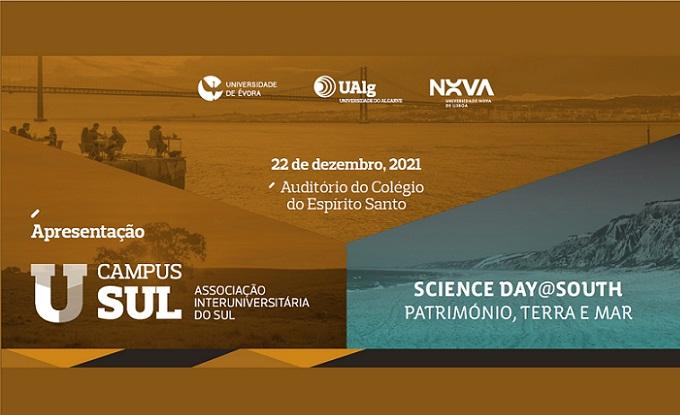 Promoting sustainable development in the south of the country and stimulating territorial cohesion, are the objectives of the Campus Sul,  an unprecedented consortium in Portugal that brings together the University of Évora, the University of Algarve and NOVA University of Lisbon and that is presented on December 22, at 11:00 am, in the Auditorium of the Colégio do Espírito Santo, at the University of Évora.
Through the best knowledge produced in each of the universities, new bachelor's, master's, and doctoral degrees will be created, which will allow students to spend periods of time in each of the three institutions, with accommodation in the university residences. It is also planned to establish centers of applied research and innovation for sustainability, and collaborative agendas with key social and economic partners in the region, in critical areas for the development of the South, such as cultural heritage, sustainability of cities and communities, conservation of marine biodiversity and sustainable agriculture. In addition, capacity building activities will be developed for municipal, regional and central administrations in the South, and other institutions active in the Region.
The South Campus presentation session will be attended by the Prime Minister, António Costa, the Minister of Science, Technology and Higher Education, Manuel Heitor, the Minister for Territorial Cohesion, Ana Abrunhosa, the Dean of the University of Évora, Ana Costa Freitas, the Dean of the University of Algarve, Paulo Águas, and the Dean of the New University of Lisbon, João Sàágua.
During the afternoon, the "ScienceDay@South" will take place, a showcase of the best research carried out by the three universities, namely in the areas of Heritage, Earth and Sea.
Program available here. The event will be broadcast online on CAMPUS SUL channels.
All information about the new consortium is available at www.campussul.pt.
*Due to the restrictions in force, in the scope of the fight against covid-19, the event will have marked seats and therefore confirmation of presence will be necessary, as well as presentation of the Digital Certificate or negative test carried out up to 48 hours before.
Published in 20.12.2021