Maria Rosa Duque
Assistant Professor (Department of Physics)
Employment contract in public functions indefinitely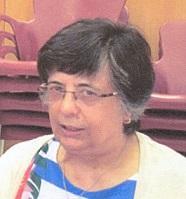 Doctoral Degree:
Física/Física- Geofísica (Fluxo de calor) (Universidade de Évora - 1992)
Bachelor's Degree:
Física/Macrofísica (Geofísica ) (Faculdade de Ciências da Universidade de Lisboa - 1980)
Department of Physics Assembly (
Advisor
)
Department of Physics (
Deputy
)
ICT - Institute of Earth Sciences (
Collaborating Member
)
Geofísica Interna/ Fluxo de calor
Energia geotérmica
Fluxo de calor. Métodos não convencionais para obtenção do fluxo de calor. Fontes de calor na crusta. Obtenção de Geotérmicas por condução. Estimativa da espessura da litosfera através do estudo de temperaturas em profundidade.
Estudo e explicação de anomalias de fluxo de calor. Anomalias associadas a existência de água. Energia geotérmica.
Obtenção de informação e análise do campo geomagnético na Peninsula Ibérica e regiões adjacentes em 1969.
Estudos relacionados com problemas associados a utilização intensiva de energias renováveis.
Elaboração de materiais em português relacionados com Energia Geotérmica, Termodinâmica e Física da Terra.
Participação em formação de professores do ensino secundário através de oficina de formação, Encontros da SPF e textos de divulgação.