Manuel Pereira dos Santos
Full Professor [Retiree] (Provedor do Estudante)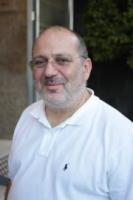 Doctoral Degree:
Doutoramento em Física do Estado Sólido/Física do Estado Sólido (Universidade do Minho - 1985)
Master Degree:
DEA de Physique des Solides/Physique des Solides (Université Pierre et Marie Curie (Paris VI, France) - 1982)
Bachelor's Degree:
Licenciatura em Física - Ramo Científico/Física (Universidade do Porto - 1977)
ICT - Institute of Earth Sciences (
Integrated Member with doctorate
)
Student Ombudsman (
Ombudsman
)
Física do Estado Sólido.
Física de Materiais.
Espetroscopia Raman e Luminescência.
Filmes finos (preparação por sputtering; caracterização).
ICT - Instituto de Ciências da Terra - Polo da UÉ (desde dezembro de 2017)
CEFITEC - FCT/UNL (colaborador, tendo sido membro desde julho de 2002)
SPF - Sociedade Portuguesa de Física (desde 1975)
EPS - European Physical Society (desde 1985)
SOPORVAC - Sociedade Portuguesa de Vácuo (sócio-fundador, desde 1987)
POCI-01-0247-FEDER-046100 e LISBOA-01-0247-FEDER-046100
/
Portugal 2020 ,Portugal 2020 ,Portugal 2020 ,Portugal 2020 ,Portugal 2020
acrónimo: VIRIATO
finished in 30/06/2023