Maria Doroteia Campos
Researcher (MED - Institute of Mediterranean Agricultural and Environmental Sciences)
Fixed-term employment contract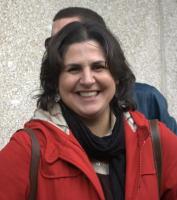 Doctoral Degree:
Ciências Agrárias (Universidade de Évora - 2016)
Master Degree:
Agricultura e Horticultura Sustentáveis (Instituto Superior de Agronomia - 2003)
Bachelor's Degree:
Engenharia agrícola/Ciências Agrárias (Universidade de Évora - 1998)
MED - Institute of Mediterranean Agricultural and Environmental Sciences (
Integrated Member with doctorate
)
With a background in agronomical sciences and plant biotechnology, I developed my PhD on the identification of molecular functional marker candidates for breeding on carrot yield stability. During that time, I have developed the enthusiasm for working on the molecular response of plants to environmental constraints, both abiotic and biotic. In this line, my interests lie on the question of how plant specific gene dynamics are involved on responses to pathogens, in order to develop new strategies for sustainable plant protection.
I have a strong interest on the molecular basis of plant response and resistance/susceptibility to pathogens, that including plant differential gene expression. I am also working on fungal and virus identification through molecular techniques for diseases diagnose.
Molecular biology techniques (gene isolation, cloning and qPCR).
Bioinformatic and statistical analysis.
Plant Biotechnology (in vitro culture).
Viticulture and Enology (physical and chemical analysis of grapes and wine, HPLC cromatography and spectofotometry for color evaluation).
Post-harvest techniques (evaluation of maturation of fruits and analysis of sugars by chomatography).
Optical microscopy techniques.
Excellent communication capability.
Organized and systematic working methodology.

Post-doc research fellow in the frame of the project "OLEAVALOR - Valorização das Variedades de Oliveira Portuguesas" ALT20-45-2015-08.