Tânia Mesquita Nobre
(MED - Institute of Mediterranean Agricultural and Environmental Sciences)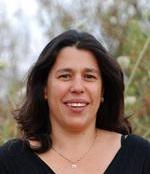 Doctoral Degree:
Ciências Biológicas (Queen Mary College, University of London - 2007)
Bachelor's Degree:
Biologia - Aplicada aos Recursos Animais Terrestres/Biologia (Faculdade de Ciências da Universidade de Lisboa - 1998)
MED - Institute of Mediterranean Agricultural and Environmental Sciences (
Collaborating Member
)
My focus is on symbioses, particularly on partners' coevolution and stabilization of mutualisms. This involves concepts of cooperation and conflict and networks of symbiotic partners, but also adaptation and speciation, incl. the different evolutionary forces that lead to extant patterns of diversity.

I have addressed how symbiosis influences the colonisation process and speciation. I have unveiled patterns of coevolution, with a special emphasis on population dynamics of the symbiont and I have explored symbiont life history and traits selection. I am searching for the common denominator on several types of symbioses, how cooperation and conflict are being balanced and the dynamics of host-symbiont specificity. In a practical perspective, this knowledge can lead to exploitation of fit-for-purpose symbiotic consortia.

- evolutionary origin and stability of symbioses
- host-symbionts-environment interactions
- coevolution and speciation
- evolutionary and ecological determinants of species distribution
- population structure and life history evolution

Specifically, I want to explore the emerging view of symbiosis as an evolution unit. This implies that the "survival of the fittest" must be seen broader: natural selection works by giving entities (individuals or a group of genetically different entities) better adapted to a set of environmental conditions an advantage over those that are not as well adapted. Interactions among partners affect the fitness not only of the host but also of the symbiont. I have been exploring this interplay using suitable model systems (e.g. fungus-growing termites, arbuscular mycorrhiza, and recently olive fly), a combination of classical evolutionary biology and experimental evolution, and also upcoming techniques.
Main Research Group: Genetic Resources and Functional Genomics (with clear interactions with Plant Protection and Food Science and Technology groups).
Main ICAAM Thematic Line: enhancing the sustainability of Portuguese Olive sector.