Elisabete da Palma Carreiro
Researcher (LAQV-REQUIMTE - Associated Laboratory for Green Chemistry - Clean Technologies and Processes)
Fixed-term employment contract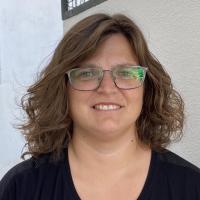 Doctoral Degree:
Doutoramento Europeu em Química/Química (Universidade de Évora - 2010)
Bachelor's Degree:
Licenciatura em Química/Química (Universidade de Évora - 2003)
LAQV-REQUIMTE - Associated Laboratory for Green Chemistry - Clean Technologies and Processes (
Integrated Member with doctorate
)
Organic Synthesis; Asymmetric Synthesis; Homogeneous and Heterogeneous Catalysis; Medicinal Chemistry; Nanotechnology; Molecularly Imprinted Polymers
Design, asymmetric synthesis and characterization of new heterocyclic molecules with potential antitumor activity. Biological assays: enzymatic and antiproliferative assays in cancer cell lines.

Studies of specific interactions between receptor (enzyme) and ligand (small molecule) in solution, using Saturation transfer difference NMR (STD-NMR) spectroscopy.

design and development of nano-vehicles for the administration of nucleoside derivatives drugs in cancer cells: magnetic nanoparticles approach;

Synthesis and characterization of molecularly imprinted polymers (MIPs) for quantification of residual pesticides in food samples.
Organic and Organometallic Synthesis
EXPL/CTA-GEO/0609/2021
/
FCT
acrónimo: Eco-STONEPROTEC
finished in 16/07/2023
PTDC/ASP-AGR/30097/2017
/
Portugal 2020
finished in 01/03/2023