Ana Delfina Leal Granjeia Costa
(CICS.NOVA.UEVORA - Interdisciplinary Centre of Social Sciences)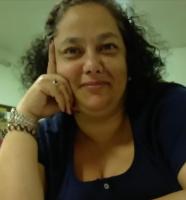 Master Degree:
Sociologia (Universidade de Évora - 2012)
Bachelor's Degree:
História, Ramo Património Cultural/História (Universidade de Évora - 2006)
CICS.NOVA.UEVORA - Interdisciplinary Centre of Social Sciences (
Collaborating Member
)
Cidadania, Trabalho e Tecnologia
Trabalho, Organizações e Trajetórias Profissionais
Costa, Ana e Serrano, Maria Manuel (2012). ?O desenvolvimento de recursos humanos no contexto das organizações sociais?. Actas do VII Congresso Português de Sociologia, Sociedade, Crise e Reconfigurações, Faculdade de Letras e Faculdade de Psicologia e Ciências da Educação da Universidade do Porto. Porto, 19 a 22 de Junho de 2012.
* For more publications, perform a search by author name on Digital Repository of Scientific Publications of UÉ.