Ramiro Pastorinho
Assistant Professor (Departamento de Ciências Médicas e da Saúde)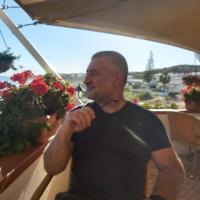 Doctoral Degree:
Biologia/Ecotoxicologia (Universidade de Aveiro - 2008)
Master Degree:
Ciências das Zonas Costeiras/Biologia (Universidade de Aveiro - 2002)
Bachelor's Degree:
Biologia (Universidade de Coimbra - 1997)
CHRC - Comprehensive Health Research Centre (
Integrated Member with doctorate
)
MED - Institute of Mediterranean Agricultural and Environmental Sciences (
Collaborating Member
)
Ecotoxicologia, Toxicologia, Saúde Ambiental.
Fontes, dispersão e comportamento dos contaminantes ambientais e seus efeitos em humanos e no biota, particularmente no Ambiente interior. Uso de animais de companhia como sentinelas de exposição humana a contaminantes ambientais.
Paisagem, Biodiversidade e Sistemas Socio-Ecológicos- Instituto de Ciências Agrárias e Ambientais Mediterrânicas (ICAAM-UE)
Centro de Investigação em Ciências da Saúde (CICS-UBI)
Centro de Estudos do Ambiente e do Mar (CESAM-UA)
"Endocrine disruptors and menopause: role of plastics and cosmetics". Sociedade Portuguesa de Endocrinologia - "Bolsa Conceição Barbas em Diabetes e Metabolismo"- Principal investigator, 2019-2020.