Maria João Lança
Associate Professor with Agregação (Department of Zootechny)
Employment contract in public functions indefinitely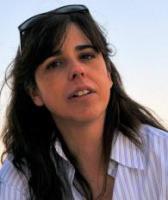 Doctoral Degree:
Biologia/Biotecnologia Animal (Faculdade de Ciências da Universidade de Lisboa - 2001)
Bachelor's Degree:
Biologia /Ramo Científico Animal (Faculdade de Ciências da Universidade de Lisboa - 1987)
Department of Zootechny Assembly (
Advisor
)
Comissão de Curso da Licenciatura em Ciência e Tecnologia Animal (
Director
)
MED - Institute of Mediterranean Agricultural and Environmental Sciences (
Integrated Member with doctorate
)
Metabolismo lipídico em agnatas, peixes e em mamíferos.
Relação do metabolismo lipídico com a fisiologia animal no grupo dos peixes.
Mais recentemente tem desenvolvido trabalho no campo da osmoregulação a nível branquial dando enfase à caracterização lipídica das membranas basolaterais das brânquias e ao papel destas na possível influência ao nível do complexo Na+/K+ ATPase.
Tem também desenvolvido trabalho na caracterização da composição proximal de espécies de pescado assim como em alguns marcadores de toxicidade/poluição.
Particular interesse em utilização de marcadores lipidicos para avaliação de aspectos importantes da fisiologia de diferentes espécies animais.
Em relação aos trabalhos futuros de investigação, uma das linhas proposta relaciona-se com a importância dos lípidos durante as migrações reprodutivas, dando assim continuidade a um trabalho que tem vindo a desenvolver.
De facto, nas espécies que realizam migrações reprodutivas existem geralmente períodos que antecedem a migração onde os hábitos alimentares levam à aquisição de elevadas reservas de lípidos que serão usadas quer na migração quer no desenvolvimento/sucesso de descendência. Desta forma, para se entender a bioenergética do movimento que existe nas migrações reprodutivas, deve ter-se em atenção os vários sistemas fornecedores de energia. Ao nível dos peixes, o exemplo mais bem conhecido é a migração de longas distâncias que precede a época de reprodução e na qual os requerimentos de energia para os músculos vermelhos que sustentam a natação provém essencialmente do catabolismo dos ácidos gordos. Desta forma, a especificidade de oxidação dos ácidos gordos e a finalidade da mesma são importantes quer na composição dos tecidos dos peixes quer na condição corporal dos mesmos e também para o sucesso da reprodução.

Caracterização do perfil nutricional lipídico em lampreia marinha e outras espécies anádromas para efeitos de consumo humano. Benefícios e desvantagens do pescado em termos de ácidos gordos ómega 3 e 6.

A outra linha mais recente relaciona-se com o novo projeto, no qual faz parte integrante da equipa, GAMEFISH. A qualidade nutricional e segurança do pescado e seus derivados estão, atualmente, no centro das atenções dos consumidores europeus assim como a sustentabilidade no setor das pescas comerciais e recreativas. Deste modo, a sua linha de investigação residirá na caracterização do perfil lipídico e nutricional do músculo de indivíduos de uma espécie piscícola interessante do ponto de vista piscatório, o achigã (Micropterus salmoides, Lacépède,1802). Pretende-se igualmente relacionar a qualidade nutricional da sua carne com as características ambientais das albufeiras de residência, com a idade dos peixes (jovens, adultos) e com a estação do ano (Verão e Inverno).
Atualmente desenvolve também investigação em espécies de interesse em aquicultura.
É membro integrado do Centro de Investigação Instituto de Ciências Agrárias e Mediterrânicas acreditado na FCT.
2006 maio. Foi seleccionada para a atribuição de uma Bolsa integrada no Programa Sócrates-Bolsas TS (Teaching Staff Mobility) para a deslocação à Universidat Politécnica de Valencia, Espanha.
1992 setembro. Atribuição de bolsa de estágio por parte da Junta Nacional de Investigação Científica e Tecnológica para um estágio na Academy of Natural Sciences of Philadelphia, Estados Unidos.
1990 11 outubro. Selecionada para atribuição de contrato de bolsa de investigação de doutoramento, subsidiada pela Junta Nacional de Investigação Científica e Tecnológica, no âmbito do Programa Ciência (BD/79/90-IG).