Luísa Grácio
Assistant Professor (Department of Psicology)
Employment contract in public functions indefinitely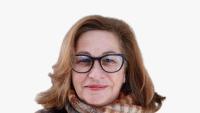 Doctoral Degree:
Doutoramento em Psicologia (Universidade de Évora - 2003)
Master Degree:
Mestrado em Psicologia Educacional (Mestrado de 4 anos) (Instituto Superior de Psicologia Aplicada - 1995)
Bachelor's Degree:
Licenciatura em Psicologia Educacional ( Licenciatura de 5 anos) (Instituto Superior de Psicologia Aplicada - 1990)
Department of Psicology Assembly (
Advisor
)
CIEP - Center for Research in Education and Psychology of the University of Évora (
Integrated Member with doctorate
)
Comissão de Curso do Mestrado em Psicologia (
Deputy
)
Conselho Científico (CIEP) (
Advisor
)
Pedagogical Council of School of Social Sciences (
Advisor
)
Tema 5 - Desenvolvimento e Inclusão (
Integrated Member with doctorate
)
Psicologia da Educação; Psicologia da Aprendizagem e da Motivação; Psicologia Cognitiva


- Aprendizagem e Ensino: concepções, abordagens e estratégias de aprendizagem; Metacognição
- Auto-Regulação do Aprender
- Aspectos afectivos e motivacionais
- Estudo
-Ensino; Ensino Superior
- Desenvolvimento, Educação
- Desenvolvimento Epistemológico
- Promoção de Competências
- Pensamento Individual (Concepções) e Social (Representações Sociais) em diversos domínios
- Fenomenografia
Participação em Projectos de Investigação financiados
- Orquestração da aprendizagem no ensino superior -contributos para a qualidade da aprendizagem e para o sucesso académico. Referência do projecto: PTDC/CPE-CED/103195/2008
Financiamento: FCT
Estado: em curso (2009-2012)

- Processos Auto-regulatórios e rendimento académico: Fundamentos Pessoais e Sociais.
Referência do Projecto: PTDC/CED/66503/2006. Financiado pela FCT
Estado: Em curso (2007-2010).

- IRIS - Improvement through Research in Inclusive Schools: Inclusive Classrooms – a multidimensional approach
Referênciadoprojecto:128825-CP-1-2006-UK-Comenius-C21.
Financiamento do Programa COMENIUS . Entidade Coordenadora: Administration Générale de l'Enseignement et de la Recherche Scientifique – COMMUNAUTE FRANÇAISE DE Belgique.
Estado: Finalizado (2006-2009).

- A Influência de Variáveis Pessoais e Contextuais no Rendimento no Rendimento
Académico. A Situação do Ensino Superior Público no Alentejo.
Referência: POCI/ALE/04.01.02/0002/2006
Entidade Financiadora: POCI – Programa Operacional Ciência e Inovação 2010
Estado: Finalizado (2007-2008).