Luís Martins
Assistant Professor (Department of Veterinary Medicine)
Employment contract in public functions indefinitely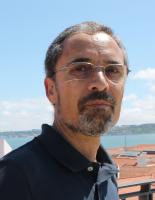 Doctoral Degree:
Bioquímica/Bioquímica - Enzimologia (Universidadde de Coimbra - 2007)
Bachelor's Degree:
Licenciatura em Medicina Veterinária (Escola Superior de Medicina Veterinária - 1987)
Department of Veterinary Medicine Assembly (
Advisor
)
Comissão de Curso do Curso de Formação em Formação Avançada em Imunoalergologia Veterinária (
Director
)
Comissão de Curso do Curso de Valorização Profissional em Avicultura Industrial (
Director
)
Directive Council of Veterinary Hospital (
Advisor
)
Course Commission of the PhD Program in Biochemestry (
Deputy
)
MED - Institute of Mediterranean Agricultural and Environmental Sciences (
Integrated Member with doctorate
)
Imunologia geral, imunoquímica e imunidade celular.
Medicina preventiva da produção.
Imunoalergologia e bioquímica do sistema imunitário.
Avicultura industrial.
Investigação em medicina clínica de animais silvestres.
Identificação e caracterização de alergénios em animais.
Identificação de desequilíbrios biológicos associados a patologias mais frequentes em galinhas reprodutoras.
Caracterização do efeito antimicrobiano e promotor da cicatrização, de preparações farmacológicas não antibióticas.
Ordem dos Médicos Veterinários.
Sociedade Portuguesa de Alergologia e Imunologia Clínica.
Academia Europeia de Alergologia e Imunologia Clínica.
Bolsa de pós doutoramento (área de ciência animal e ciências veterinárias) SFRH/BPD/48164/2008 – Caracterização alergológica para Dermatophagoides pteronysinus (ácaro) e para Dactylis glomerata (gramínea) de populações caninas das regiões de Évora e de Lugo (Galiza, Espanha).
Bolsa de Investigação da Junta Nacional de Investigação Científica e Tecnológica (JNICT)(1995-1998).
ALT20-03-0247-FEDER-033578
/
Portugal 2020
acrónimo: NAQUIBIODPSA
finished in 30/09/2021
PEC 78
/
CIÊNCIA VIVA
finished in 31/08/2014