Sofia Capelo
Assistant Professor (Department of Landscape, Environment and Planning)
Employment contract in public functions indefinitely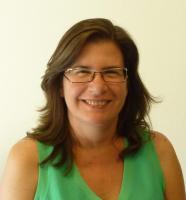 Doctoral Degree:
Química (Instituto Superior Técnico - Universidade Técnica de Lisboa - 1996)
Bachelor's Degree:
Química Tecnológica/Química (Faculdade de Ciências de Lisboa - Universidade de Lisboa - 1989)
Department of Landscape, Environment and Planning Assembly (
Advisor
)
CIDEHUS - Interdisciplinary Center for History, Cultures and Societies (
Collaborating Member
)
Comissão de Curso da Licenciatura em Ecologia e Ambiente (
Deputy
)
Química Ambiental. Química Analítica. Electroquímica. Monitorização. Sustentabilidade. Gestão de Resíduos.


Patente: PT103723 - PROCESSO DE REMEDIAÇÃO DE ÁGUAS ÁCIDAS CONTAMINADAS COM METAIS POLUENTES.
Publicada a 23.11.2007, no Boletim da Propriedade Industrial nº128/2007;
Válida para o território Nacional a partir de 20-04-2007 (data de início de vigência);
Titulares: Universidade de Évora e a Universidade do Algarve;
Inventores: Sofia Capelo e José Paulo Pinheiro.


Membro colaborador do ICT - Instituto de Ciências da Terra (G1; 30%)
https://www.uevora.pt/investigar/unidades-id/unidades-investigacao/ict
Membro colaborador do CIDEHUS.UE - Centro Interdisciplinar de História, Culturas e Sociedades da Universidade de Évora (20%); Membro da Cátedra UNESCO em Património Cultural Imaterial e Saber-Fazer Tradicional (área do ambiente)
P420RT0162
/
CYTED - Programa Ibero-americano de Ciência e Tecnologia para o Desenvolvimento
em curso até 15/01/2025
/
JNICT
finished in 01/01/2001