Isabel Pestana Paixão Cansado
Assistant Professor (Department of Chemistry)
Employment contract in public functions indefinitely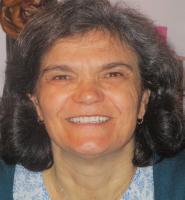 Doctoral Degree:
Doutoramento em Química - Universidade de Évora/Química (Universidade de Évora - 2003)
Master Degree:
Maitrîse en Chimie - Université du Quebéc à Montréal/Química (Université duQuebéc à Montréal - 1997)
Bachelor's Degree:
Licenciatura em Química Analítica - (Equivalência) - Universidade de Aveiro/Química Analitíca (Universidade de Aveiro - 1998)
Department of Chemistry Assembly (
Advisor
)
Comissão de Curso do Mestrado em Engenharia Química (
Deputy
)
MED - Institute of Mediterranean Agricultural and Environmental Sciences (
Integrated Member with doctorate
)
LAQV-REQUIMTE - Associated Laboratory for Green Chemistry - Clean Technologies and Processes (
Collaborating Member
)
Preparação, modificação, caraterização e aplicação de materiais adsorventes.
Grupo de Química das Superfícies
Colaboradora no LAQV requimte.
Membro do MED
Membro da Sociedade Portuguesa de Química.