Francisco Lúcio Reis Borges Brito dos Santos
Full Professor [Retiree] (Department of Rural Engineering)
Retired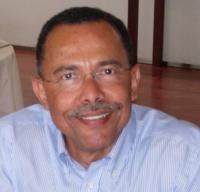 Doctoral Degree:
Doctor of Philosophy (Ph.D.) in Agricultural Engineering /Agricultural Engineering - Irrigation (University of Arizona, Tucson, Arizona, U.S.A - 1990)
Master Degree:
Master of Science (MSc.) in Soil and Water Science/Soil and Water (University of Arizona, Tucson, Arizona, U.S.A - 1985)
Bachelor's Degree:
Licenciatura em Engenharia Agronómica/Fitopatologia (Instituto Superior de Agronomia de Lisboa - 1976)
Modelação da transpiração das culturas com detecção remota e informação micro meteorológica, necessidades hídricas das culturas, coeficientes culturais e gestão da água em regadio.
Gestão da água de rega no olival e na vinha com recurso a índices de vegetação (EVI e NDVI), fluxos de seiva e modelação da transpiração e evapotranspiração. Uso de sensores de fluxo de seiva e índices fisiológicos (condutância estomática e potencial hídrico) para avaliação da transpiração e do défice hídrico
Relações azoto-sódio na produtividade das plantas, especialmente do milho e do sorgo.
Eutrofização pelo fósforo: dinâmica do fósforo, erosão e escorrimento superficial. SIG´s.