Rute Isabel Duarte Guedes dos Santos
Invited Assistant Professor (Department of Zootechny)
Institutional contract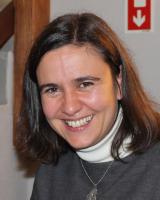 Doctoral Degree:
Medicina, Sanidad y Produción Animal/Ciências Veterinárias (Universidad de Córdoba - 2008)
Bachelor's Degree:
Medicina Veterinária/Ciências Veterinárias (Universidade Técnica de Lisboa - Faculdade de Medicina Veterinária - 1996)
MED - Institute of Mediterranean Agricultural and Environmental Sciences (
Collaborating Member
)
Ciências veterinárias, Ciência Animal, Produção Animal
Locomoção equina. Cavalo Puro Sangue Lusitano. Implicações do treino e das práticas desportivas equestres na fisiologia e no bem-estar animal. Produção de bovinos de carne.
VALORIZA - Centro de Investigação para a Valorização de Recursos Endógenos
Instituto Politécnico de Portalegre