Ana Rodrigues Costa
Assistant Professor (Departamento de Ciências Médicas e da Saúde)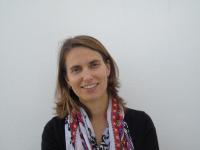 Doctoral Degree:
Doutoramento em Bioquímica/Bioquímica (Universidade de Évora - 2012)
Bachelor's Degree:
Bioquímica (Faculdade de Ciências - Universidade de Lisboa - 1997)
Comissão Executiva e de Acompanhamento do Mestrado em Bioquímica (
Deputy
)
ICT - Institute of Earth Sciences (
Integrated Member with doctorate
)
MED - Institute of Mediterranean Agricultural and Environmental Sciences (
Collaborating Member
)
Toxicologia Bioquímica;
Mecanismos de regulação intracelulares.
Efeitos alergénicos do pólen; Interação pólen-poluição; Avaliação de efeitos biológicos em modelos celulares.
Membro integrado do Instituto de Ciências da Terra, ICT, desde 2016, integrando o grupo G1 - Ciências atmosféricas, instrumentação e clima, na linha Palinologia e saúde. Membro colaborador do Instituto de Ciências Agrárias e Ambientais Mediterrâneas (ICAAM).
Membro da Associação de Aerobiologia Espanhola desde Março de 2019.
Membro da European Academy of Allergy and Clinical Immunology, EACCI, desde 2016.
Membro da Sociedade Portuguesa de Alergologia e Imunologia Clínica, SPAIC, desde 2015.
Membro da European Association for the Study of Diabetes, EASD, desde 2010.
Membro da Sociedade Portuguesa de Bioquímica, SPB, desde 2006.
Bolsa da Fundacion Carolina (Espanha) para Estâncias de Investigação de Professoes Portuguese em Universidades Espanholas - 3 meses (1Março a 31 Maio 2019).