Honorary Doctorates
Graça Machel Mandela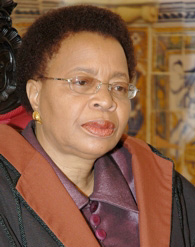 11/14/2008
Patron: Hélder Adegar Fonseca
Graça Machel Mandela, mulher moçambicana e africana, é uma destacada activista social a favor dos direitos das mulheres e crianças.
Membro do comité central da Frente de Libertação de Moçambique, (FRELIMO).
Como Ministra da Educação e da Cultura organizou, entre 1975 e 1989, o sistema escolar em Moçambique, luta pela educação, convicta de que é um passo essencial para o progresso, e pelo cumprimento dos direitos humanos.
Em 1990, criou a Associação para o Desenvolvimento da Comunidade, uma organização não lucrativa empenhada na promoção do desenvolvimento, justiça social, combate à pobreza e protecção de mulheres e crianças em Moçambique, que se transformou, em 1994, na Fundação para o Desenvolvimento da Comunidade.
Reconhecida pela comunidade internacional, foi presidente da Comissão Nacional da UNESCO em Moçambique. Em 1994 foi nomeada pelo Secretário-geral da ONU como " independent expert " para elaborar um estudo sobre o impacto dos conflitos armados nas crianças. A profundidade do estudo despertou a atenção do mundo para esta matéria, nomeando-a " Special representative of the secretary-general for children and armed conflict ".
Actualmente faz parte da Fundação das Nações Unidas, instituição criada com o objectivo de promover um mundo mais pacífico, próspero e justo.